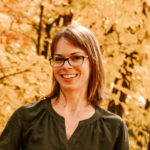 Michelle Davis is an artist and illustrator who is fascinated by both the beauty and workings of nature. She creates nature-focused art both traditionally and digitally.
Michelle has a Master of Science degree in Medical Illustration from Georgia Regents University and has 10+ years experience creating visual media and animations for the medical field.
She lives in Minnesota with her husband and two children, and also enjoys biking and gardening.
Media Skills
Adobe Photoshop
Watercolor and traditional media
Adobe InDesign, Illustrator, AfterEffects
Maxon: Cinema 4D
ZBrush