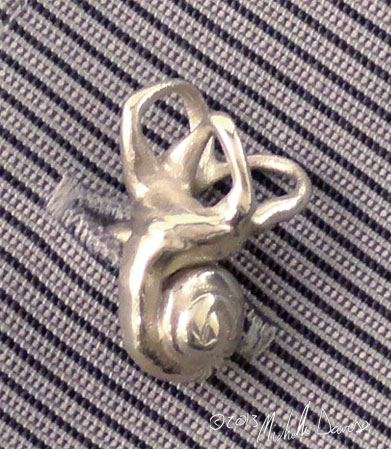 These very unique cufflinks are anatomically correct (scale: 100%) models of the inner ear — the small bony organ inside the skull that's responsible for our sense of hearing and balance. Both the cochlea and semicircular canals make up the cufflinks.
These are available in stainless steel or sterling silver (shown below), as well as gold-plated stainless steel, and they makes a great tasteful one-of-a-kind guy gift for someone in acoustics, audiology, or music.
Note: these cufflinks do not have gears on them, and 'work' very simply by slipping and angling the rod and bar through the cufflink hole. The 'rod' (perpendicular to inner ear) stretches out .9 mm before intersecting with the bar. The 'bar' (horizontal to inner ear) measures 1.3 cm in width.