I tried some experiments in a new material – black stainless steel, which, as it sounds, is a dark (though not true black) form of typical stainless steel.
There are a couple shots below of both a lumbar pendant and a heart pendant. Of course it gives a darker overall look, which gives a unique and edgier effect. One downside is that because the material is fairly matte, there's less contrast overall to show off the contours of the pendants.
Worthwhile experiment, and I think the pendants are quality, though this might be a limited run from this material.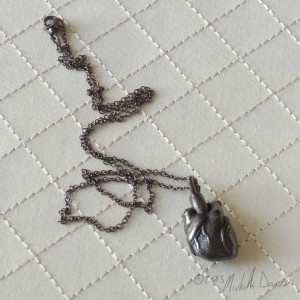 Black steel lumbar vertebra pendant: