Animated gifs online have made a strong comeback in the last couple years as an easy and low file size way to stream and show simple bits of video/animation online.
There have been some really elegant ones done recently.
And I can't forget to mention William Wegman's first animated gif.
These are far cries from the hamsterdance.
I love where this medium is going because simple short looping animations (aka cinemagraphs) fall somewhere between a still illustration and a full fledged animations – the moment isn't frozen but it's also not really moving forward (in that it repeats itself forever) — instead, I like to think of the gif animation as suspending a moment.
So here's one of my first stabs at a (medical) animated gif, portraying (what else than?) sperm perpetually moving through the fallopian tube. I hope to do a lot more with this.
Media: Cinema 4D, a bit of ZBrush, and photoshop
Specs: 90 frames, 256 color and other settings to minimize file size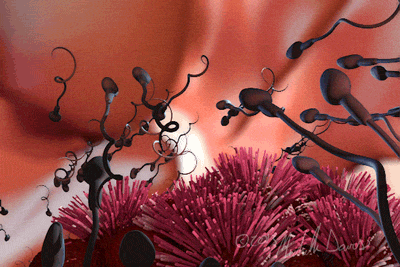 As a side note- creating short looping animations makes for an interesting animation challenge — all your movement needs to end where it started, and still needs to be naturalistic — i.e. dynamics aren't the best solution.